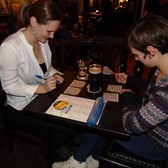 We'll be rolling the balls and calling the numbers which keep you on the edge of your seat. Join us for prizes, fun and good times with friends!
Prize tokens are valid for drinks costing up to 8€ and are only valid on the night they are received!
Plan on coming with a friend or two? Be sure to reserve your table in advance. Just give us a ring to let us know you're coming for Bingo and we'll make sure you have a seat front and center.
mehr lesen